Parish Update
Weekend of September 6th, 2020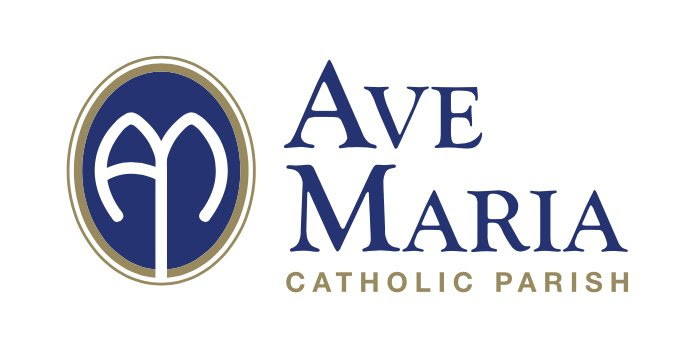 Celebrations
Confirmations
In the Sacrament of Confirmation, the baptized person is "sealed with the gift of the Holy Spirit" and is strengthened for service to the Body of Christ. During August and September, 90 of our Ave Maria youth will be confirmed. Please join us in praying for our newly confirmed and that their faith shines brightly so everyone they meet can see Christ.
Congratulations! Learn more about Confirmation from Bishop Barron: Word on Fire Confirmation
Diaconate Candidates
On August 29th, four Ave Maria Parishioners were called to candidacy by Bishop Sheridan to begin the four-year formation to be a permanent deacon.
Please pray for Jim Zielinski, Aaron Menke, Matt Martinez, and Mike Dalton as they embark on this important journey!
Around the Parish
Catechists
Catechists needed! Faith Formation is planning in-person religious education classes for the families that have expressed they are comfortable being in person. In order to make this happen, we need YOU! Please consider and pray about helping out. Also, pray for others to come forward to help. All teaching materials will be provided. Contact Nancy at  nhartshorn@avemariacatholicparish.org or Angelle at aschott@avemariacatholicparish.org for all the details.
Parish Update Clarification:
There have been no decisions made on in-person learning for faith formation families this fall. We are currently exploring the viability of in-person learning and are seeking volunteer catechists.
Ave Maria Staff
Although things around the parish are a little different these days due to COVID, the staff has not changed. This is a listing of the staff and their jobs. Please reach out if we can be of any assistance to you!
Fr. Nathaniel Hinds, Pastor
303-841-3750; pastor@avemariacatholicparish.org
(Not a private email. May be viewed by admin staff.)
Fr. Erin Kochivar, Parochial Vicar
303-841-3750; fr.erin@avemariacatholicparish.org
Deacon Pete McCann
720-842-4118; deaconpete@avemariacatholicparish.org
Deacon Greg Archunde
720-842-4110; deacongreg@avemariacatholicparish.org
Deacon Paul Ruff
303-841-3750; deaconpaul@avemariacatholicparish.org
Linda Litzsinger, Accounting & Business Manager
720-842-4100; llitzsinger@avemariacatholicparish.org
Nancy Hartshorn, Director of Faith Formation
720-842-4117, nhartshorn@avemariacatholicparish.org
Angelle Schott, Coordinator of Youth Ministry
720-842-4116; aschott@avemariacatholicparish.org
Rossana Carpizo, Religious Education Assistant
720-842-4106, rcarpizo@avemariacatholicparish.org
June Record-Curlee, Coordinator of Music
303-841-3750 X 130; jrecord-curlee@avemariacatholicparish.org
Kristie Gates, Bookkeeper and Bulletin Editor
720-842-4101; kgates@avemariacatholicparish.org
Tish Estrella, Office Assistant
720-842-4102; testrella@avemariacatholicparish.org
Joan Menicucci, Parish Administrative Assistant
720-842-4108; jmenicucci@avemariacatholicparish.org
Mass Stipends
Have you thought about offering a Mass Intention for a loved one? Has someone who passed away been on your mind?
Come to the office and request a Mass intention for them. Their name is published on our website and the priest will have their name at the altar. Weekly Mass intentions are also posted on the bulletin board in the breezeway. Stop by the parish office and speak with Tish.
Mass
Please remember to register for all Masses: weekdays and weekends. This will guarantee your spot, make the check-in process faster and ensure we are following the guidelines required by Douglas County. If you are not able to attend, please be sure to cancel your registration so other parishioners can attend Mass.
1,282 total views, 26 views today