Parish Update
Weekend of October 11th, 2020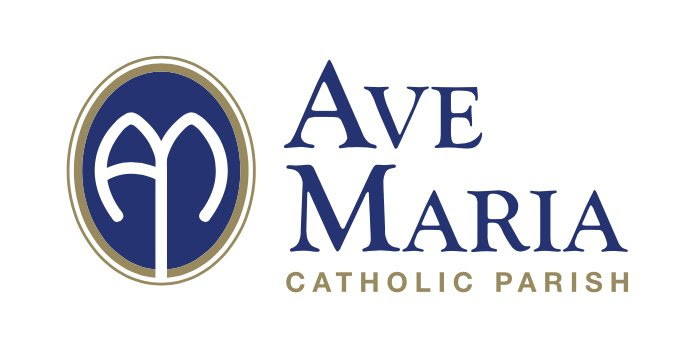 Around the Parish
Mass
Please continue to sign up for all Masses, weekday and weekend, on our website 
www.avemariacatholicparish.org
.  This will ensure your spot for Mass and speed up the check-in process.  We do have limited space at our Masses.  When you sign up, you only need to sign up for 1 spot per family.   Also, if your plans change, please cancel your reservation to allow others to use the spot.  Thanks for your help!
Bethlehem Handicrafts
Bethlehem Handicrafts will be at the Masses the weekend of October 17th and 18th. Bethlehem Handicrafts is a Christian organization that supports the families in Bethlehem who carve unique crafts from genuine olive wood such as crosses, nativity sets, angels, crucifixes, ornaments, figures of Virgin Mary and Jesus Christ, rosaries, and much more.  For more information, check out their website by clicking the button below.
Amazon Smiles
Support Ave Maria Catholic Church or School by using one of these links when shopping at Amazon.com:                                                
http://smile.amazon.com/ch/840963229
 (Church)
The History of the Rosary
The Rosary that we know today is historically associated with St. Dominic, a mendicant preacher and founder of the Order of Preachers, the Dominican Order. However, the Rosary was taking shape much earlier than St. Dominic. In the early Church, much of the world was illiterate.  To mimic the religious monks praying the 150 psalms, the poor would pray the Our Father or Hail Mary 150 times. To help them keep track, they used pebbles, which was problematic to carry 150 pebbles in one's pocket, so they began using beads. These beads were made from roses. The rose was chosen because of its long history of beauty and love.  As each Hail Mary was prayed, people could imagine the offering of a rose to Our Lady for the help of those they were praying for. The graces given to Mary gave her unparalleled powers of intercession. Mary's petitions on behalf of others was never refused – she is the only one whom Jesus never refused. She never asked for anything for herself, always for others. We see this in the Wedding at Cana where her last spoken words were recorded in John 2:1-11.
The practice of using beads and saying 150 Hail Mary's is a meditative prayer that has been part of the Church's history for thousands of years. It is traditionally believed that Our Lady appeared to St. Dominic to use the Rosary to help preach to the world about Jesus. This is where we received the first 15 mysteries of the Rosary – Sorrowful, Glorious, and Joyful mysteries. All of these mysteries were the exact teachings that were needed to confront the heretics of his day.
There isn't much written down about St. Dominic and the Rosary. One can make the inference that out of obedience to Our Lady, St. Dominic preached it as she requested and didn't write it down. It is through the writings of Blessed Alan de Roche that we know that Our Lady appeared to St. Dominic. However, since then, there are many writings and examples of how Our Lady has granted our petitions and prayers.  The Rosary is a beautiful prayer that allows us an opportunity to meditate on the life, death, resurrection, and ascension of Our Lord.  While spending time in this rhythmic meditation, it brings us into a deeper relationship with God and puts our trust in Him through the intercession of Our Lady.
919 total views, 4 views today